We often think of the internet as an open source of unlimited information, but that's not always the case depending on where you live or what network you're connected to. In many places, certain web activity or content will be blocked outright, and we're not just talking about boring websites with paywalls. For example, your workplace or school networks may block certain sites to prevent distractions, while some online content is heavily regulated or restricted by local governments. However, you can bypass these blockages if you have the right tools.
These tools can help you subvert more blocks of content, although we strongly urge you to ensure that you are not breaking any laws before using them. Although everything we cover below is legal in the United States.S, using these tools in other countries, or using them to access illegal content, could land you in serious trouble. Like, years in prison or massive fines. Do your research and use at your own risk.
The easiest way to read blocked websites is to hide your real IP address with a proxy connection. By connecting to a proxy server in another region, you can access region-locked content on streaming sites like Netflix, YouTube, or Spotify. The website you connect to will recognize the proxy's IP address, rather than your own. There are free and paid services available, with paid options offering better privacy features and more reliable connections, but free proxies work well as long as you check professional reviews to make sure they're safe.
Proxies boost your internet privacy, making it harder for companies (or governments) to track your browsing activity, but they're not perfect. Proxy servers are best for accessing region-blocked streaming content, rather than circumventing local laws or other high-level restrictions, as many organizations use sophisticated tracking or blocking technology that you cannot circumvent with a simple proxy connection. In these cases, a VPN is the best option.
Our guide on VPNs and how to find the best and most secure option for you and your devices is a great introduction to the technology, but the quickest explanation is this: VPNs are like proxies but with even more protections in place (like encrypted connections). They can protect everything online activity across your devices (or even your entire home network), rather than just your internet browser, making them more efficient if you download torrents or access highly sensitive content where you live. The best VPNs are paid products, and we strongly advise against free VPNs as they are either low quality or straightforward.malware scams.
G/O Media may receive a commission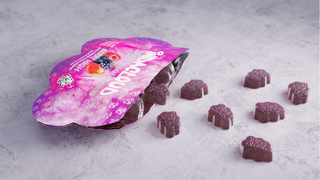 Relax
If retro-style candy colors are a bit your thing, Indacloud's best-selling gummies cater to that nostalgic craving – these are vegan gummies packed with 500mg of Delta 8 cannabis.
That said, VPNs aren't perfect either, and even the best ones paid services have problems or may stop working unexpectedly (make sure your VPN has a kill switch!), and some firewalls recognize and block VPN connections. There are specialized VPNs called "decentralized" VPNs (dVPNs) that get around this problem by spreading your connection over a decentralized network and creating more credible spoofed IP addresses that bypass super strict filters, but that's not an option for Most people. because they require crypto-based payments (see How-To Geek's dVPN Guide if you are interested).
Instead, you should try using TOR. TOR (or The Onion Browser) is essentially a standalone browser designed for anonymity, packing (get it?) layers of privacy technology into a simple tool that most internet users can configure themselves. Check out our guides on TOR and how to use it for more information, but if you used a desktop browser, TOR will be self explanatory.
TOR has its own caveats like slow connection speeds and reduced malware protection which limit its usability (best to stick with proxies or VPNs for P2P streaming, downloads or file transfers), but the main benefits of TOR are that websites – and anyone else monitoring your activity from browsing, such as your ISP, advertisers or government organizations – won't be able to track you. Or at least they will have a really difficult to know who you are and where you live. This makes it a great choice for general web browsing, or even access the dark web.
[How-To Geek]